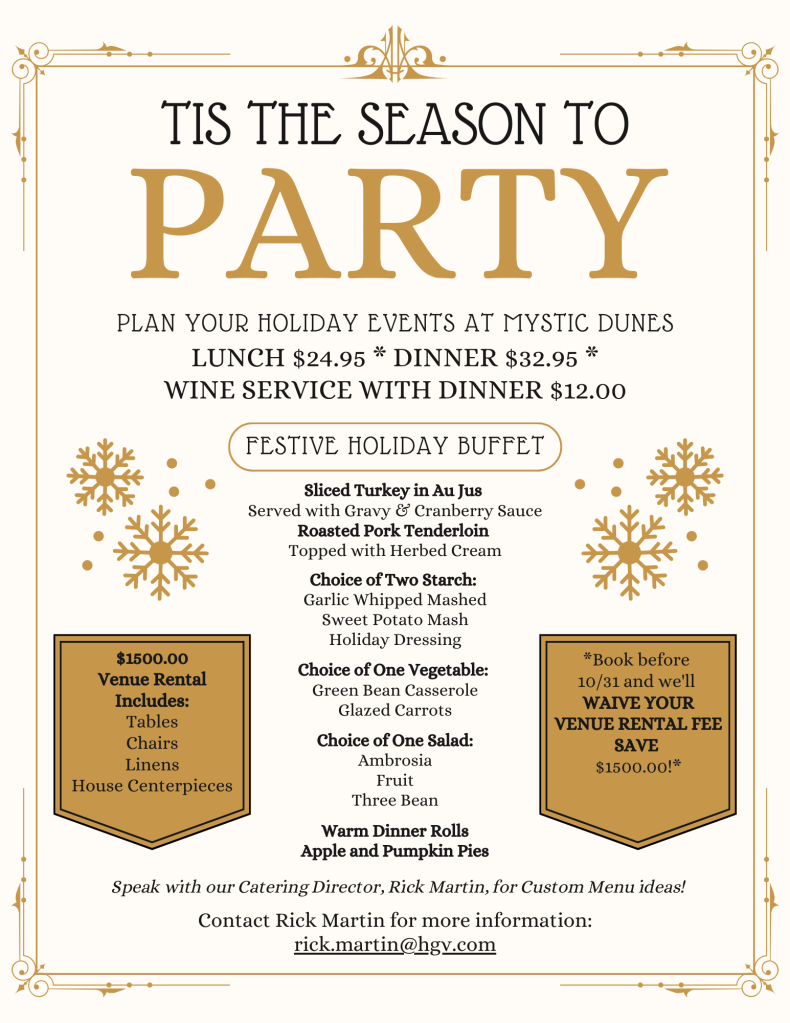 Say "I Do" at Mystic Dunes Golf Club!
Looking for a wedding venue in Orlando? Our experienced staff will assist with all of your planning to ensure an unforgettable wedding experience. Let us focus on the small details so you can focus on having your dream day. 
We offer:
Gourmet menu

Elegant ballroom with space to host

Personalized service offerings

Complimentary night in a one-bedroom villa with chocolate-covered strawberries, & a bottle of champagne

One-hour cocktail service with butler-passed appetizers

Five-hour reception space

Champagne toast

Cake-cutting service

Personalized table linen & napkin options
For more information regarding our wedding offerings, please contact our Wedding Professional, Rick Martin. We look forward to helping you plan and execute your special day!
Contact Rick:
Rick Martin
Private Events Director
(407) 787-5636
Rick.Martin@hgv.com
Rick and the entire staff made our wedding the most magical, phenomenal day of our lives. Not only was it the wedding of our dreams but it's going to be a wedding that spoken about for years. Rick was extremely quick to respond to emails and, help us out with anything we needed. Mystic Dunes was the perfect spot for our wedding. Thank you to Rick and the entire staff that was involved on our wedding day.

Melissa W. – Married on 11/30/2022
You, and the entire team, made the day so easy for us. I had so many compliments from the guests about how perfect the venue was. The setting, the service, just everything. I can't thank you enough.

Paula F. – Married on August 2022
Rick Martin came in with only a few months before my wedding and it was like we was helping plan it the entire time! I was nervous when the previous coordinator left but after our first meeting with Rick, I felt so comfortable and at ease! He made sure everything was perfect, supported me in ways I didn't even know I needed, and took care of everything during our big day, from making sure we had food – to any issues that arose during, as well as the rehearsal dinner. The venue and food were amazing as well! I cannot recommend Rick Martin and Mystic Dunes enough!

Melissa D. – Married on 6/28/2021
Mystic Dunes knocked it out of the park!

I could write a book about this place that's how pleased I am with Mystic Dunes. I went into planning my wedding blindly not knowing at all what to expect and kind of knowing what I wanted. Mostly focused on the budget. Giving it to you straight Mystic Dunes has the most affordable, inclusive, wedding packages. They can't be beaten. Now let me tell you about Rick Martin the wedding coordinator of this venue. He was my Angel sent from heaven. He knows his stuff and made this entire wedding journey come together. Most importantly he made me feel confident and at ease during every meeting. When it came to accommodating my requests for our menu Rick and the chef went above and beyond to deliver a more Latin flavor approach. My guests absolutely loved the food. I received compliments all night on how great the food was. Rick, from the very beginning, was so professional and did not miss a beat from helping me pick out the linens to vendors to creating a timeline for the event and keeping all my vendors and his staff on track the day of my event. Showing compassion and understanding during stressful moments throughout the planning process and pure excitement and joy the day of. This man even bustled my dress! He decorated the venue with all our décor beautifully. He stayed on top of everything and everyone and even checked us into our Honeymoon suite before he left, leaving us a map to find our way to our room. I have not one regret choosing Mystic Dunes. I would give it 10 stars if I could. Thank you Rick Martin and staff for making my wedding a dream come true. It was such a beautiful event.

Anjelica C. – Married on 05/20/2023